Every owner takes pride in their smart and well-trained dog
The morning of June 13 was very rainy, but – it didn't matter much since the training session with trainer Ilze Krivane at the Upesciems stadium was well attended.
Both dog owners & Ilze herself are happy with the progress with their "trainees", how their behaviour is changing at home, on their usual training fields, and – now – inside the training stadium. Ilze says that it is very important to learn how to always have a good contact with your dog, even when there are many other dogs, people, toys, and various other distractions around. And, most importantly, for the dog owners themselves to have fun while doing it, and be proud with the results.
Some photos from the training session.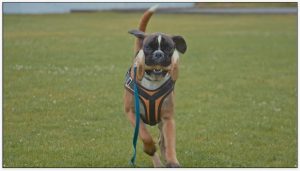 Information prepared by I.Krivane